Our Business Philosophy
The objective of our business is to provide a high quality product and reliable service for our customers. We hope you will enjoy visiting our web site and using our products as much as we enjoyed providing them for you.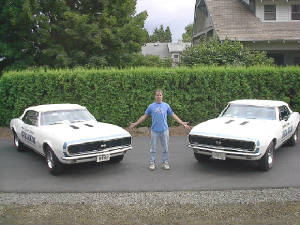 Our Fearless Leader & His 1967 Camaro Pace Cars.
We pride ourselves in the quality of our products and services performed but without the help from the people below none of it would be possible. So our deepest thanks to the following:
Nate from "Line Them Up"
Dennis Marcus, Matt Jones, Ron Thompson of Bowtie Performance & Restorations,
Steve Johansen, Daren Milionis, Todd Martinson, Pam Stauber, Sarah Stauber, Ben Stauber, Martin Stauber, David Stauber, Tyler the Flyler Stauber, Shirley Stauber & many more.
Our Services include:
Muscle Cars For Sale
Classics
Preowned Late Model Cars & Trucks
Restorations
Appraisals
Locating Service
Custom Built to your qualifications 67-69 Camaro's.
Hard to find 67-69 Camaro parts.
Over 30 years experience